Education in Kernersville
Eating for Education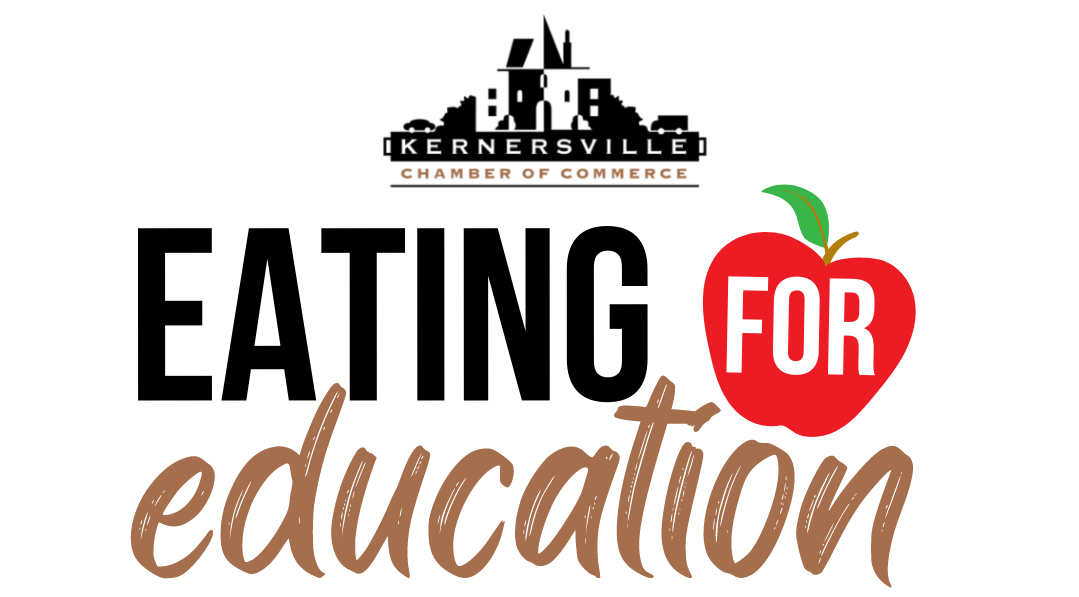 Always the second Wednesday in July, August and September! Come eat and support our local schools!
The following are participating restaurants:
Brother Cluckers
Captain Tom's Seafood Grill & Bar
Dominos
East Coast Wings
Giada's Trattoria
Gypsy Road Brewing Company
Mad Greek Grill
Outwest Steakhouse and Saddle Room
Smitty's Grille
The Prescott
Sixty-Six Grill & Taphouse
The Loop
Zaxby's
1-Stop
---
Shopping for Education - September 9, 2023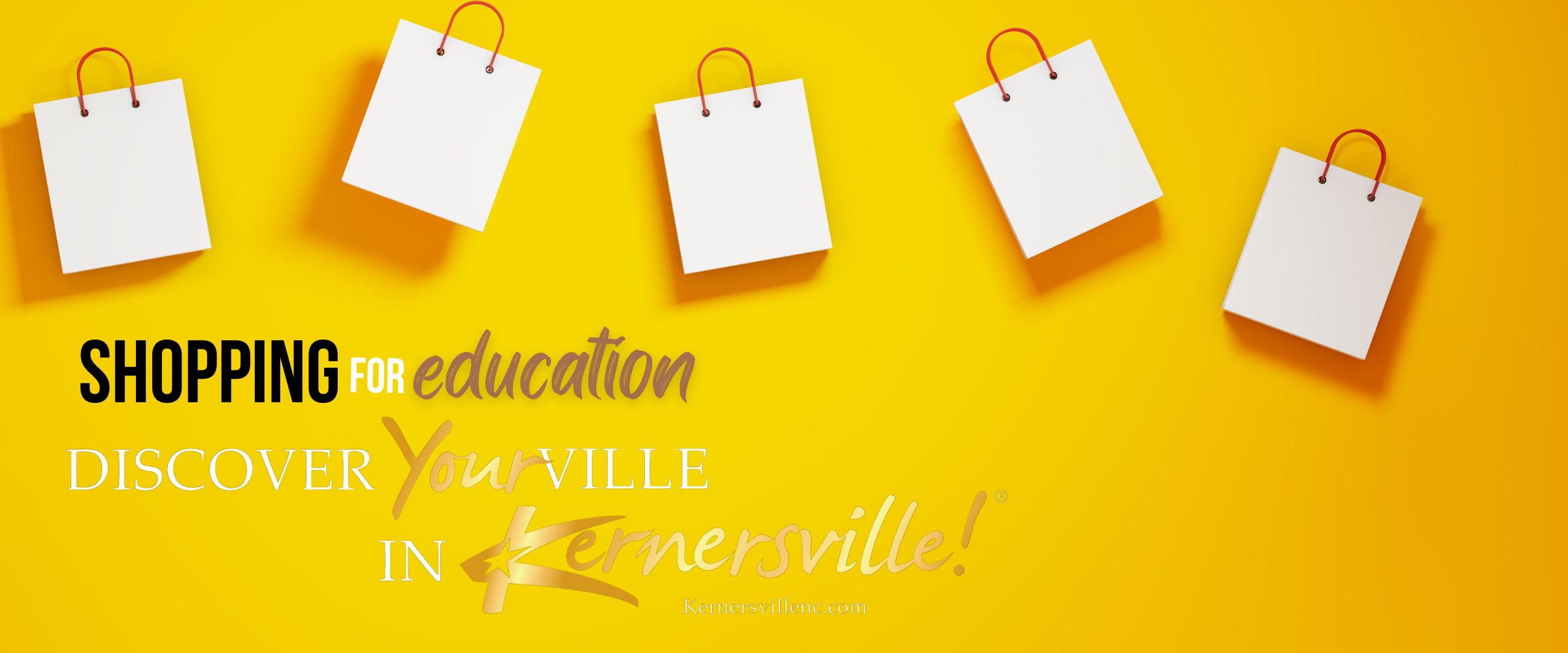 This event works like Eating for Education. A portion of the sales will come back to the Chamber for our Education Funds. This means more grants for Kernersville Teachers. Please support this event.
Participating Locations:
Jane. Made & Found
Teeth Whitening Center
Pawlee's
119 on North
Oh Baby by 119
Aixa Maria Gift Baskets
Southwind's Gallery
Village Family Chiropractic
Savage Roasters (Online)
Blue Nest Mercantile
MisMatch Boutique
Cake & All Things Yummy
Magnolia Bride (Appt Only)
Mae + Grace
Accent Prone
Kyle's Coffee
Street Boutique
UnderPar Golf Lounge


---
Kernersville Chamber Teacher Grant Program
The Kernersville Chamber of Commerce raises money each year to fund special projects in our public school system. We are committed to creating a strong business community. One of the ways to accomplish this is by improving the educational opportunities available to our public school students. The Teacher Grant Program is an effort to provide a unique educational experience for students in elementary, middle and high schools. Funds for unique educational programs are very limited, and teachers are providing many supplies and materials out of their own pockets.
Grants will be provided to suitable projects that add value to the learning experience in a classroom. Where possible, the project should directly benefit both the class and the school.


The applicant must complete the application form with sufficient detail for the committee to be able to judge the viability of the grant request. Projects will not be evaluated if the budget and/or description are too vague.
A teacher may re-apply for the same project or a continuation of a larger project in the next annual grant cycle.
Submitting the Completed Form
Teachers shall submit a completed application(s) to the Kernersville Chamber of Commerce via email at kchamber@kernersvillenc.com
Please note that previous year winners must wait one school year before applying again.
Examples of Typical Projects That Could Be Recommended for Grants:
Educational decorations for a classroom
Class project materials and supplies
Funding a guest speaker
Special instructional materials
Specialized classroom furniture/fixtures
Process
We ensured that every school received at least one grant. We selected the Special Education/ESL grant and arts grants regardless of school. Then, the education grant committee selected the best of the remaining grants regardless of which school they came from.
Education Project Ideas Available For Businesses to Directly Support
The Kernersville Chamber of Commerce is committed to supporting public education. One of the ways we do this is by raising funds from our chamber member businesses, seeking proposals from teachers and then funding as many as possible. In September of 2013 we awarded a record 44 grants to teachers in all of the Kernersville area schools. Even after giving out a record number of grants there are many great ideas still available for funding. Perhaps one of these matches the interest of your business.
As you can see from the list below many of the ideas involve updated technology and "hands on" teaching techniques that promote learning.
Below is a list of ideas proposed by teachers in the Kernersville area schools. We can provide interested businesses with the description of the project submitted by the teachers. While we invited proposals of up to $1,000 many of the proposals were for smaller amounts. We welcome any businesses or individuals to select one of the ideas below and contacting the teacher directly to offer your support.
Story Works program
Resource cabinet for entire K staff
Genetic/organism lesson (Science)
Wind Experiment (Science)
Cross country track (PE)
Dollhouses (Life Skills)
Class set novels (NC Literature)
Molecule Modeling (Chemistry)
Hispanic & global ebooks (English)
Graphic novel genre addition (Media)
Samsung Tablets – (Reading)
K'NEX roller coaster kits (Math)
Poetry Songwriting Unit (Lang Arts)
Geo Safari Talking Globes
Light table
iPad Mini
---
Leadership Kernersville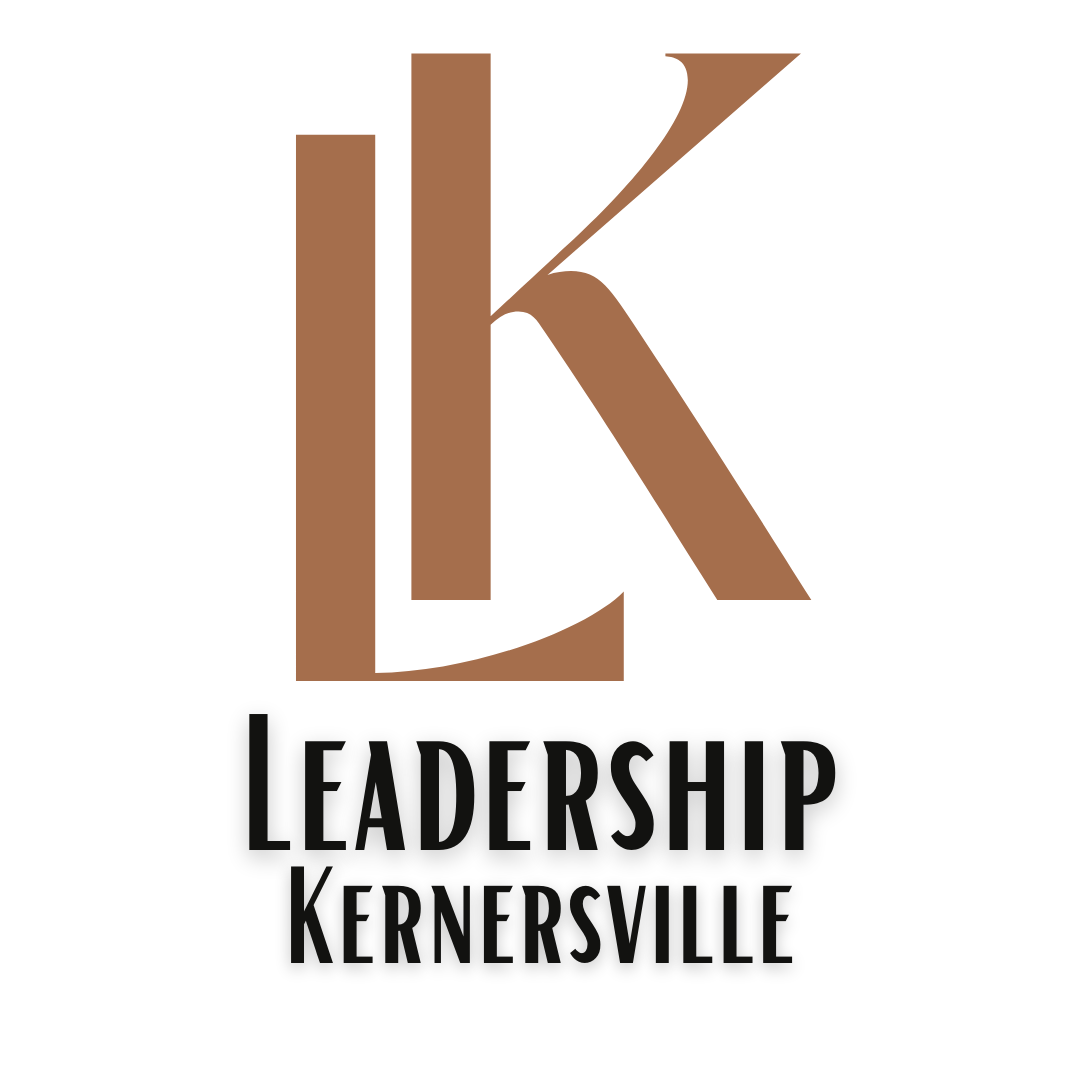 Leadership Kernersville is conducted each year, and has an alumni list of 200+ community leaders since its inception in 1993. This program currently operates September through May, meeting once a month for a full day. Topics include: economic development, regionalism, education, history, law enforcement, government, health care and human services. Some of our Leadership Kernersville graduates go on to participate in Piedmont Triad Network, a program that networks together leaders from the 12-county Piedmont Triad area.
Goals: Identify current and future leaders within the community. To provide insight as to how Kernersville functions as a community (both internally and externally within the piedmont Triad region and the state of North Carolina). To further prepare participants for leadership roles and involvement within the community, the region and the state.
Requirements: 18-20 program participants are selected from a pool of applicants each year. To successfully complete the experience, each participant is expected to fully participate in all monthly sessions. Any participant missing more than one monthly session can make up the missed sessions, and graduate the following year. In summary, you are allowed to miss one class to graduate on time. There will be opportunities to sample other community meetings, such as the Board of Aldermen, Planning Board, Kernersville 2023 planning committees, etc.
Leadership Kernersville Class of 2024 Application
2023-2024 Leadership Kernersville Class