Landmarks & Places to See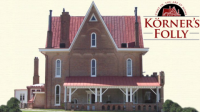 Körner's Folly is the architectural wonder and home of artist and designer Jule Gilmer Körner. Built in 1880 in Kernersville, North Carolina, the house originally served to display his interior design portfolio.
Visitors can now explore the 22 room house museum and its unique original furnishings and artwork, cast-plaster details, carved woodwork, and elaborate hand laid tile. http://www.kornersfolly.org/
---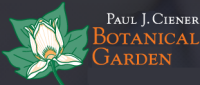 Paul J Ciener Botanical Gardens – Since the Grand Opening in April 2011, Ciener Botanical Garden has been connecting people with plants from all over the world through tours, exhibits, and special events.
http://www.cienerbotanicalgarden.org
---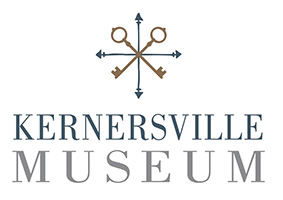 Kernersville Museum – The KHPS in partnership with the Town of Kernersville has recently established a Kernersville Museum in the late 1800's David Bodenhamer House, more commonly known has the Bellamy House, located at 127 W. Mountain Street.
https://www.facebook.com/KernersvilleMuseum
https://www.kernersvillemuseum.org
---

Carolina Field of Honor – In 2009, through a joint resolution between Forsyth and Guilford Counties in North Carolina, the location for a memorial park, called the Carolina Field of Honor, was established in the Triad Park. Efforts are underway to raise the funds for construction. Browse through our site to get a feel for the Carolina Field of Honor and the memories it will recall. http://www.ncwmf.org/CarolinaFieldofHonor.aspx
---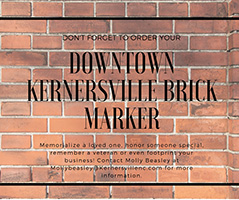 Kernersville Brick Markers – Bricks are located in the Downtown Kernersville area in 3 unique areas for you to choose from: At The Town Hall, The South Main Trellis or the 1873 Depot! Etch a special date for perpetuity and help your Downtown Council create a healthy economic climate and preserve our historic heritage.
---
Train Depot – Recent restoration of the 1873 vintage railroad depot gives the public a view of how Kernersville transported the raw materials of the tobacco, textile and furniture businesses to the market, enabling Kernersville's role in the legacy products of our region.
https://www.kernersvillemuseum.org/historic-train-depot
---

Kernersville Auto Museum - The Kernersville Auto Museum consists of a variety of American, English, French and German Classic Cars for public viewing and enjoyment. The Museum is a newly constructed 11,000 sq. ft. state of the art Climate-Controlled & secure facility. The Museum will feature over 100+ years of automotive history while bringing back so many memories to our seniors and inspiration to the younger generations. The Museum is a 501©(3) nonprofit organization with some of the vehicles having been donated to the Museum or others privately owned by members of the local community either to honor their loved ones or to showcase their beloved autos for everyone to enjoy.