Back to Events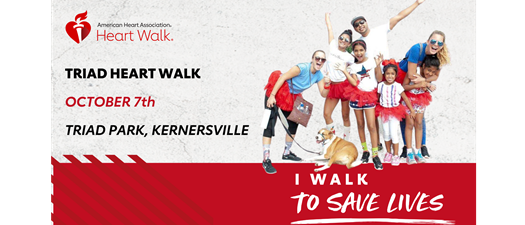 American Heart Association–Triad Heart Walk
Saturday, October 7, 2023
10:00 AM - 11:00 AM (EDT)
Event Details
Celebrate with us at the first-ever Triad Heart Walk! Starting this year, by coming together for Triad-wide events, we are working smarter, engaging across the entire Triad, and becoming even stronger together.
The Triad Heart Walk will be in-person on Saturday, October 7th at Triad Park in Kernersville. The event begins at 10 a.m. and the walk starts at 11 a.m. with a three-mile route and one-mile Survivor Loop option. Joining the Heart Walk is one of the most important things you can do for yourself and for others. Please take a moment now to register at www.TriadHeartWalk.org.
Participating in the Heart Walk is about coming together, getting hearts pumping, honoring survivors, raising lifesaving funds – and having fun along the way. But it's so much more than a walk! Be a supporter of critical research. Be a community energizer. Be a champion. Be a lifesaver. You are all of these things when you become a walker.
This year's Triad Heart Walk is being led by Co-Chairs Rob Braiman of Cogent Analytics and Goldie Byrd, PhD of Maya Angelou Center for Health Equity at Wake Forest University School of Medicine. The Triad Heart Walk is supported by Life Fierce. Life is Why Sponsor Novant Health, Live Fierce. Be the Beat Sponsor Cone Health, and Healthy for Good Sponsors, Atrium Health Wake Forest Baptist & MedCost.
We'll see you at the Start Line!