Back to Events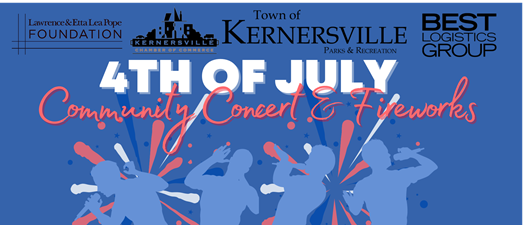 Kernersville 4th of July Community Concert & Fireworks
Enjoy an evening of singing, dancing, food and fireworks!
Monday, July 4, 2022
Event Details
We will start on Monday morning with the 5k Run at 8:30AM, followed by the parade at 9AM, food trucks at 5pm, concert at 6:30PM and fireworks by 9:15PM.
Concert and Fireworks located at: Raider's Field 512 W Mtn Street, Kernersville. 
Concert by: The Legacy Motown Revue
Concert Sponsored by: Lawrence & Etta Lea Pope Foundation 
Fireworks Sponsored by: Best Logistics Group & TOK Parks & Rec.
Food Trucks include: 
Wingz & Thyngz
Rockin Moroccan
The Southern Noodle
Gianno's Wood Fired Catering
Numbskull Frozen Cereal
Mike & Mike's Italian Ice
Kernersville Raiders Fundraiser
For More Information:
Ashley Sinclair
Marketing Director of Programs and Downtown
Kernersville Chamber of Commerce
(336)564-2252x8103