Back to Events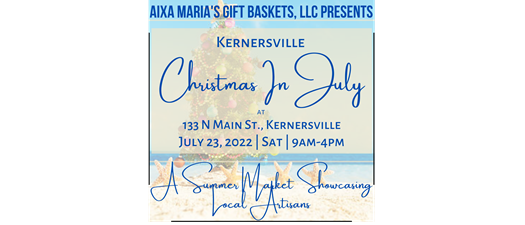 Kernersville Christmas in July
Join us for a day of shopping local artisans in Downtown Kernersville
Saturday, July 23, 2022
Event Details
Join us on Saturday, July 23, 2022 from 9am-4pm for A Kernersville Christmas In July, hosted by Aixa Maria's Gift Baskets, LLC. Local craft vendors & artisans will set up on the lawn, located at 133 N Main St, Kernersville, to showcase and sell their handmade creations. Food will also be available for purchase.
Admission to the public is free. This is an outdoor event.
No smoking on the lawn. Parking is available throughout downtown.