Back to Events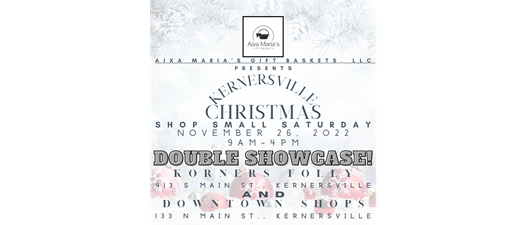 Kernersville Christmas Shop Small Saturday
Saturday, November 26, 2022
Event Details
Join us for a DOUBLE SHOWCASE event on Small Business Saturday, November 26, 2022 from 9am-4pm in the Heart of the Triad for A Kernersville Christmas Shop Small Saturday, hosted by Aixa Maria's Gift Baskets, LLC.
We will have local craft vendors, artisans, information services, direct sales, and more will set up at TWO DIFFERENT LOCATIONS
1.)In the Downtown Shops area on the lawn of 133 N Main St., Kernersville AND
2.)Historic Korners Folly, located at 413 S Main St., Kernersville!
Admission to the public is free. These are both outdoor events.