Back to Events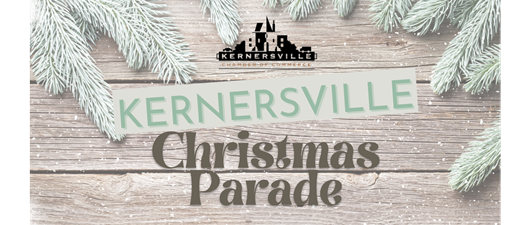 Kernersville Christmas Parade 2023
Annual Christmas Parade in Downtown Kernersville
Sunday, December 3, 2023
Event Details
Registration opens on Sunday, October 1st.
FIRM DEADLINE FOR REGISTRATION IS FRIDAY, NOVEMBER 17TH.

NO

REGISTRATIONS OF ANY KIND WILL BE ACCEPTED AFTER FRIDAY, NOVEMBER 17TH.
Annual Christmas Parade in Downtown Kernersville. Come and see the area's largest Christmas parade. Downtown Kernersville will come alive with the sounds of Christmas as over two thousand parade participants celebrate the coming of Christmas. The annual parade features marching bands, fire trucks, dance groups, antique cars, professionally decorated floats and of course, an appearance from Santa.
Parade Route
Downtown Kernersville. Parade route starts at the corner of Pineview Drive and Highway 66, and continues on East Mountain Street to Kernersville Elementary School, on West Mountain Street.
Parade Participants
Early Registration Deadline: Tuesday, October 31st, 2023
Late Registration Deadline: Friday, November 17, 2023 *NO registrations accepted after*
Personal vehicles/groups of 5 or less(limit of 3 vehicles per entry):$40.00/$65.00(late)
Businesses/oversized vehicles/groups of 6 or more(limit of 3 vehicles per entry): $50.00/$75.00(late)
Tractor trailers/large trucks over 50,000 lbs(limit of 1 vehicle per entry): $60.00/$85.00(late)
Church/non-profit/school organiztions: $25.00/$35.00(late)
*Note-Spot is not secure until entry fee is paid in full.
Registration is exclusively electronic.
Participation in the parade will not be permitted unless entry fee is paid in full.
NO SANTA'S ALLOWED.
Entries must showcase a Christmas theme. Only Christmas music is permitted.
Sirens are not permitted.
Cancellation Policy: parade will be cancelled without a rain day if weather is forecasted below 39 degrees or colder and rain.
Entries are subject to approval of the Parade Committee.