Back to Events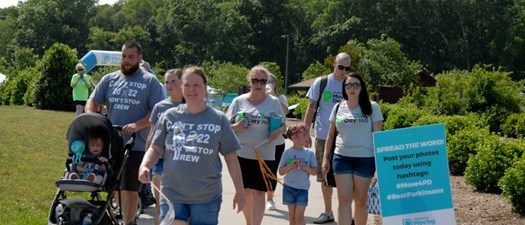 Parkinson's Foundation Moving Day
Saturday, May 6, 2023
Event Details
Event Details
Contact: Karson Terry | ph: 864-323-7411 | kterry@parkinson.org
What to Expect at Moving Day
Everyone is invited to put on their favorite Moving Day gear, wear good exercise shoes and join us in person at the very special 5th anniversary of Moving Day Winston Salem. This year's event will put our community's energy on full display as we celebrate movement together. Bring your friends and family to exercise, learn about Parkinson's resources, and enjoy the Moving Day Walk. You don't want to miss the inspiring day we have planned for you, including our live band, local vendors, and food trucks!
Moving Day Winston Salem will take place rain or shine. Check the weather forecast to prepare accordingly. Should conditions warrant any change, we will announce it via email and on the Moving Day event website.
Registration
We ask everyone who attends Moving Day to register at MovingDayWinstonSalem.org before the event. Onsite registration will begin at 9:00 am.
Location & Parking
Moving Day Winston Salem will take place at the Carolina Field of Honor at Triad Park located at 9652 W Market St, Kernersville, NC 27284. There will be directional signage as you approach the parking area. There are several parking lots that will accommodate ALL participants. Parking is free. The handicap parking spaces immediately adjacent to the venue are available on a 'first come, first serve basis'.
Click here to download the event site map.
Walk Route
The Moving Day walk is for participants of all ages and all abilities. There is a ¼ mile 'Champion' walk route for all people with Parkinson's disease, with the option to continue on for a few more laps afterward as well for anyone wanting to walk further.
Restrooms
Restrooms (handicap accessible as well) will be available in surrounding the event space.
Refreshments
Bottled water and light snacks will be available at the Refreshment Tent, and we will also have 3 food trucks on site where additional refreshments will be available for purchase.
Pets
For the safety of our participants, we do not encourage bringing pets, however, if you do, please keep them on a leash and be sure to clean up after your pet.
Donations
All donations (cash, check, credit card) can be turned in at the Registration Tent. If you prefer to donate before the event, please do so on the Moving Day website or the Parkinson's Moving Day App. If you want check donations to appear in your fundraising total sooner, use the mobile check deposit feature in the Parkinson's Moving Day App or mail them to the address below.
Parkinson's Foundation
ATTN: Donor Services – Moving Day Winston Salem
200 SE 1st Street, Suite 800
Miami, FL 33131
Please include a note with the name of the person that we should credit the donation to.
Moving Day Rewards
All registered participants that raise $100 or more will receive an exclusive Moving Day T-shirt. Click here to learn more about additional Moving Day Rewards. All fundraising rewards except the All Star Mover Long Sleeve Tee will be available for pick up at the event.
Volunteers Needed
Know anyone who might be interested in lending a hand at Moving Day? Check out our volunteer opportunities here.