Back to Events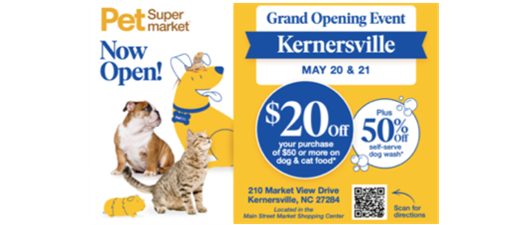 Pet Supermarket-Grand Opening Event
Pet Supermarket opens new store in Kernersville with a fun-filled weekend
Saturday, May 20, 2023
at
9:00 AM (EDT)
to Sunday, May 21, 2023 at 7:00 PM (EDT)
Event Details
Pet Supermarket Hosts Grand Opening Event in Kernersville
Pet Supermarket opens its new store in Kernersville, North Carolina, with a fun-filled weekend
Pet Supermarket is arriving in Kernersville, North Carolina, with a range of interactive activities and exclusive offers to keep furry friends happy and healthy. The specialty pet supply retailer is hosting a Grand Opening Event at its new location in Kernersville, North Carolina, on Saturday, May 20, and Sunday, May 21. The event is happening during store hours from 9 a.m. to 8 p.m. on Saturday and from 10 a.m. to 7 p.m. on Sunday.
Located within the Main Street Market Shopping Center at 210 Market View Drive, the Grand Opening Event will give community members a chance to explore the new store while celebrating with specialty raffles and giveaways courtesy of Pet Supermarket. Always welcome in store, pets are encouraged to attend the Grand Opening Event alongside their human parents. Pet Supermarket's Delish their Dish! experience will provide an interactive opportunity from 11 a.m. to 5 p.m. each day for attendees to build a bowl for their furry friends using the premium, healthy and high-quality selection available at the Kernersville location.
The weekend will also feature local adoption partners, who will bring furry friends in need of forever homes. Throughout the weekend, attendees will enjoy $20 off their $50-purchase of dog and/or cat food, as well as 50% off self-serve dog washes – making now the perfect time to celebrate!
WHAT:
Pet Supermarket's Grand Opening Event
WHERE:
Pet Supermarket
210 Market View Drive
Kernersville, NC 27284
WHEN:
May 20, 2023
9 a.m. – 8 p.m.
May 21, 2023
10 a.m. – 7 p.m.
INFO:
This event is free and open to the public.
Follow Pet Supermarket on Facebook at https://www.facebook.com/PetSupermarket/ and Instagram at https://www.instagram.com/petsupermarket/ for the latest updates and store news.
ABOUT PET SUPERMARKET
Pet Supermarket is a one-stop shop offering a broad selection of premium pet food, supplies and services sold by trained professional staff who provide knowledgeable and friendly assistance. Pet Supermarket has over 200 locations equipped to provide pet parents with the convenience to shop locally in a community-oriented and welcoming environment. In addition, Pet Supermarket's robust e-commerce experience includes standard and same-day delivery. To learn more about Pet Supermarket, visit www.petsupermarket.com.