Kernersville Cares Shopping Guide
We're challenging you to show these local business support during the COVID-19 concerns!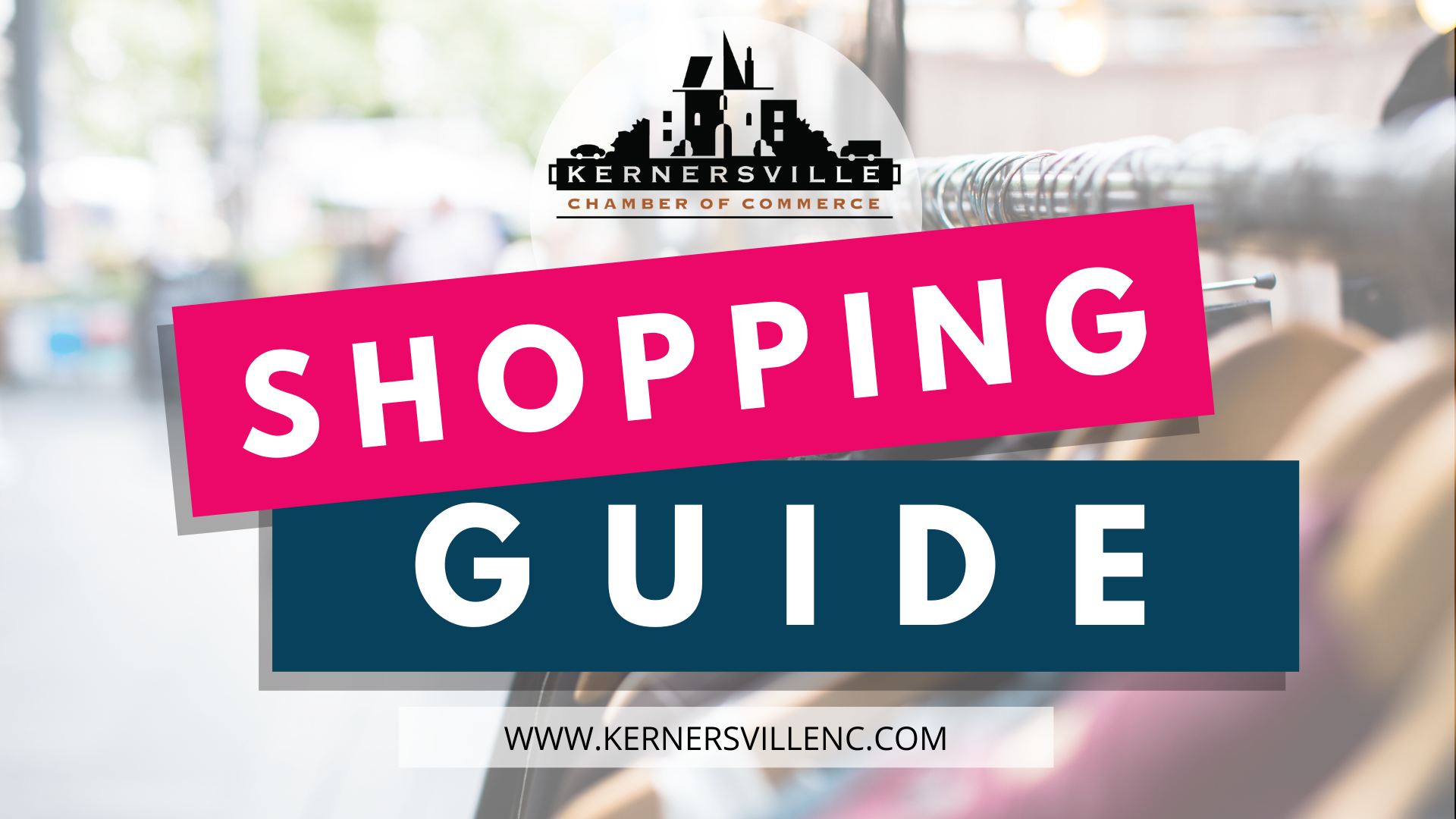 The Kernersville Chamber of Commerce will be encouraging the Kernersville community to utilize their local businesses for meal options and has compiled an on going list of options below.
This is a very crucial time during this unprecedented event- which is why our local businesses, especially our restaurants, need us now more than ever.
If you want to include your own business updates, please fill out this form here: https://forms.gle/cSNEiqH7vPUfuR146
Aixa Maria's Gift Baskets
PO Box 2022, Kernersville
336-652-2072
Aixamariasgiftbaskets.com. Waiving delivery fees with 2 day advanced notice. Shipping is also available.
Amanzi Marble and Granite
703 Park Lawn Court, Kernersville
336-993-9998
In person: showroom hours 8am-5pm by appointment, and walk-ins accepted per CDC guidelines and regulations. Online: www.amanzigranite.com (layout your countertops, choose your stone, edges, etc.)
Virtual: via phone, video, FaceTime with our Account Managers, who are available during regular business hours to assist you.
Bradford Village West
602 Piney Grove Road, Kernersville
336-993-8711
We have assisted living apartments for seniors. We are quarintined at this time but can for seniors in need and medical clearance from their PCP complete admissions. We also have independent apartments (The Gardens) that offer meal service and housekeeping for those seniors that need limited assistance. The assisted living is licensed for Medicaid (special assistance). Both communities are eligible for VA Aid and Attendance as well.
Brooke Cashion and Associates- Allen Tate
135 Church Lane, Kernersville
336-817-3598
Online, via text, email, virtual or phone. As leaders in the real estate industry, we will work to fulfill the path of real estate ownership for our clients and work hard to make their lives better through our service, care and attention.
Cabi Clothing
7087 Lambert Lake Road, Stokesdale
602-316-1975
Personalized styling sessions! My home transforms into your personal fashion boutique where you can preview and try on the Spring Collection in a one-on-one setting. Receive styling ideas and tips and discover your true style. Online appointments are also available where you can connect with me as your stylist, watch videos, and find the best cabi fashion for you. All items ship directly to your home. View the collection at kathleenmicklos.cabionline.com; get our app capiTap at kathleenmicklos.cabionline.com/cabitap; contact me at kathymicklos19@gmail.com to schedule a personal appointment or make a purchase.
Carmines Import Service
318 West Mountain Street, Kernersville
336-993-5506
We are open normal business hours and still offering our no-contact pick up and drop off service. Complimentary loaner cars delivered to your house and free disinfectant.
Choppers Barbershop
114 West Mountain Street, Kernersville
336-993-3939
Hopefully open back up for cuts on April 24th. Shirts and gift cards can be purchased.
Everything Hemp Store
220 Market View Drive, Unit C, Kernersville
833-438-4367
The Everything Hemp Store is committed to the safety of our customers and employees, so we have a plan in place to support customer needs during this time of uncertainty. Beginning on Thursday, March 19th, we will start offering curb-side service. Call 833-GET-HEMP (833-438-4367).
Genuine Car Care Center
1092 NC Hwy 66 S, Kernersville
336-993-8473
We are open as an essential business. For your protection and ours, we have closed our showroom and waiting area. We will meet you outside by your vehicle. We will be closed on Saturdays until further notice and as always please call for an appointment.
GNC Kernersville
1022 S Main Street, Kernersville
336-904-6006
In store (for now), curbside service encouraged, limited delivery available. Please try and call ahead for curbside service, hours of operation are 10am-6pm Monday through Saturday and 12pm to 6pm on Sunday.
Hemporia CBD Superstore
1030 S Main Street, Kernersville
336-310-9047
We are open M-F 11am-7pm and Sat 11am-5pm. We are offering free local delivery. Call to place an order! Also, through 3/31, we are giving away FREE to-go cups of CBD coffee, no purchase required.
Holiday Inn Express Kernersville
1570 Hwy 66 South, Kernersville
336-565-3333
Breakfast complimentary if a guest in hotel. Wiping down high touch areas every 2 hours practicing social distancing, sanitize pens, door knobs in and out of rooms get sanitize every 2 hours.
Jane Made and Found
141 South Main Street, Kernersville
336-782-2089
You can shop at www.janemadeandfound.com and also shop from our Instagram @janemadeandfound. We offer shipping, and/or we can put items outside the store for pickup with mobile checkout.
KISS Insurance
143 N Main Street, Suite 6, Kernersville
336-817-8497
My office is open by appointment only or I can come to you. Specializing in Making Medicare Simple. I educate first and walk you through the process as to what is best for your situation and budget.
Law Offices of John J Barrow, PA
118 West Mountain Street, Kernersville
336-996-5900
By telephone, email or in person by appointment, Monday-Friday.
Main Stream Boutique of Kernersville
230 Market View Drive Ste E, Kernersville
336-992-0800
While we have closed our doors for the general traffic, we are still available for a one on one appointment, virtual styling appointments through Facetime or Skype, or you can shop us virtually through Facebook or Instagram. Free local delivery, free shipping anywhere in the US.
Marble Granite World
321 E Bodenhamer Street, Kernersville
336-992-5214
Showroom visits are by appointment only! Monday-Friday 8am-5:30pm. Online at marblegraniteworld.com. Sales representatives will be available by phone or email during standard business hours.
Mis Match Boutique
110 N Main Street, Kernersville
mismatchboutique.com
Even though as of right now we have temporarily shut our doors we are still operating online. Please visit our website or visit our Facebook & Instagram.
Piedmont Plastic Surgery, PA of High Point
1011 N. Lindsay Street, High Point
336-886-1667
We are open and seeing patients by appointment only. Please call for an appointment.
Scarlett Creek
224 N Main Street, Kernersville
336-300-6648, alt. 336-247-2611
To meet your needs during this restricted time, our temporary hours will be 11am-3pm. We are taking healthy precautions while our showroom is open. We will be better organizing and preparing our new store here in the meantime for your future shopping pleasure and convenience. If there is something in particular you need and you had rather, we can do curb pick up or shipping. If no answer on primary phone, please call the Alt#.
Sign Resources of NC Inc.
673 Gralin Street, Suite B, Kernersville
336-310-4611
You can call us at our office, we have messages forwarded to key decision makers to help with any sign needs you have. We have been very busy making sign for drive up restaurant, grocerty stores, doctor offices for physical spacing, banners for businesses to show open with instruction on how to order food and get groceries delivered.
The Gibson House Inn
419 S Main Street, Kernersville
336-515-6400
Weeknight stays are reduced to $79/night and weekend nights are reduced to $89/night (pre-tax) for March and April. Gift certificates are also available via our website for use on future stays.
The Mindful Traveler
bruce@themindfultraveler.com
336-497-3179
For updates and answers to questions related to domestic and international travel reservations, both pending and future, contact The Mindful Traveler.
Vestal Buick GMC
810 Hwy 66 South, Kernersville
336-992-3022
Drive up for oil changes, tire, state inspection, etc...wait outside or in vehicle until we begin. Please visit our website or call if you are in need of a new or used vehicle. We are open in sales and service.
VI Boutique
120 Century Place Blvd, Ste F, Kernersville
VI is temporarily transitioning to all online shopping, shipped straight to your door! We are offering irresistible perks for our valued customers continuing to support us at BoutiqueVI.com. Details and specials are updated regularly on our Facebook: @shopviboutique. Store pickup will also be available by appointment for as long as it is appropriate in the current situation; email shop@vi-style.com with questions anytime!