Back to Events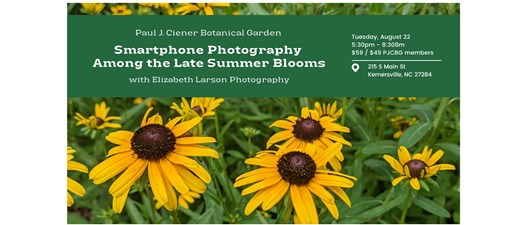 PJCBG - Smartphone Photography
THIS IS A PAUL J CIENER BOTANICAL GARDENS
Tuesday, August 22, 2023
Event Details
Experience the sights and smells of the Garden in late summer through the lens of your Smartphone Camera. Learn skills to better understand proper lighting, composition, exposure and selecting go-to photo apps to enhance your photographs. Students will put their new skills into practice by going outside and taking photos of cosmos, zinnia, sunflowers, bees, butterflies, and more. Finally, students will learn tips to share on social media (i.e., Instagram) and if desired, how to get a following of your photos on your page. This class benefits both the iPhone or Android photographer. All levels welcome.
$59 / $49 PJCBG members. Limited to 10 students, advance registration required.
PJCBG Members: To receive the member rate, you are to call 336-996-7888.
About the Instructor
Elizabeth is celebrating 33 years in business as a professional photographer this year. She specializes in wedding photography, lifestyles, natural portraiture, travel, garden, and editorial photography. Elizabeth has been teaching yearly photography workshops at the prestigious John C. Campbell Folk School since 2011 and has taught several local and out of state workshops as well. In her spare time, she enjoys traveling, gardening, cooking, journaling, live music, kayaking, and the great outdoors. A member of Professional Photographers of North Carolina, American Society of Media Photographers, Wedding & Portrait Society, Guilford Horticulture Society, Central Carolina Dahlia Society and Paul J. Ciener Botanical Garden.
For More Information:
Paul J. Ciener Botanical Garden (T)
215 South Main Street
Kernersville, NC 27284
(336)996-7888