Back to Events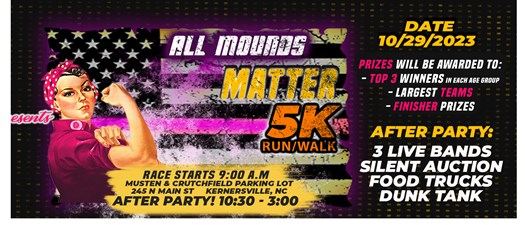 Savage Roasters - All Mounds Matter 5K
Sunday, October 29, 2023
Event Details
The most selfless thing one can do is to give support to another human they have never met. Please join Savage Roasters and Cancer Services in doing just that. We will set the stage for a community to come together ONCE AGAIN and raise money to ensure that we can do our part to fight for those in a fight for their life.
You have lots of options to participate!

1. Join us for our AFTER PARTY from 10:30-3:00! Gypsy Road Brewing (EVENT SPONSOR) Live music, Food Trucks, Dunk Tank, and lets not forget what everyone went crazy for last year... an even bigger SILENT AUCTION!
2. Donate! You don't have to run - just click the "donate" link on the menu above.
3. Become a fundraiser! Click the "fundraiser" tab on the "donate" pull down menu above. Ask your friends, family and workplace to support our cause.
Thank you for any way you choose to participate. It is going to be a great day!
For More Information:
Joshua Pratt
Owner
Savage Roasters
808.256.0905